Garage Door Openers Servicing Boise & the Treasure Valley
Why Choose LiftMaster?
Providing safe, convenient access to your home is our specialty. LiftMaster is the preferred choice of professionals because of our proven commitment to quality, performance and reliability. The Liftmaster Garage door openers are backed by a 4-10 year warranty!
The Power Lifters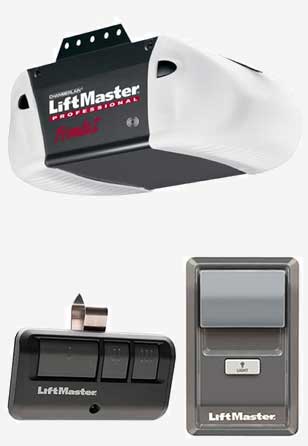 Do you have an extremely heavy garage door? We have the power to lift it! Our Premuim Series 3280 models provide more pulling power to lift today's heavier, custom wood garage doors with ease and are designed with specialty features available only from LiftMaster. These exciting new systems are availabe in chain and belt drive systems.
The Backup System
Every month, 100,000 homes experience a power outage. Our Premium Series 3280 model Garage Door Opener is the perfect choice if you want both quiet and smooth-running reliability, or simply have rooms positioned above your garage.
Customize Your Access Experience
Your LiftMaster dealer can help you select the right accessories to personalize your garage door opener system. Select one of our new designer remote controls to match your car's interior, or your mood. Ever wonder if you left your garage door open at night? Check from any room in your house with our Garage Door Monitor. See our accessories section for more LiftMaster convenience accessory choices.